Montpelier Conservation Group
Bristol Evening World 1935
Transcript of an article concerning Montpelier which appeared in Bristol Evening World in 1935.
---
Transcript of an article in Bristol Evening World: 1 October 1935
This Has Been His Home
For 73 Years
Happy Bristol Couple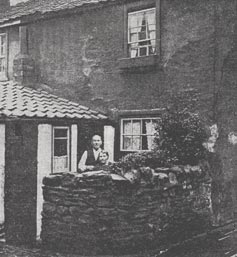 A century-old cottage, with a jasmine-covered porch, has been the home of a Bristol man for 73 years.
Mr. George Frederick Pearce is the man, and he and his wife live alone in their charming little house, 1, Ashfield Cottages, Sussex-place, Bristol.
When Mr. Pearce was three years old his parents brought him to Ashfield Cottages and he has lived there ever since.
Nearly 60 years ago he married Mrs. Pearce, also being a Bristolian, and they now have a family of two married sons, three grandchildren, and one great grandson.
Mr. Pearce told the "Evening World": "When we first came to live here, we were surrounded in fields, and City-road was just a lovely market garden. The changes have been many, but our home doesn't seem to have altered at all. Seventy-three years may be a long time in one house, but we wouldn't move from here on any account."
In pre-war days, Mr. Pearce had his own haulage business, with horses and carts. One of his regular journeys was from Montpelier station to Horfield Barracks. At that time there were no shops on the route, and Mr. Pearce often travelled backward and forward all day without being able to buy even a cup of tea!
GARDENING HOBBY
After the war Mr. Pearce was employed by the Bristol Corporation, and he retired when he was 69.
His hobby now is gardening. He has had an allotment for 18 years, and grows his own vegetables and flowers.
Mrs. Pearce, who is 78, is a tiny woman with surprising vitality.
She does her own housework and cooking and even does her own decorating. Last week she papered the walls of one room.
"I like managing for myself and a little jumping about doesn't hurt anyone," she said.
And so they go on living in their cottage, perfectly happy and watching philosophically the changing world around them.