Montpelier in Bristol, England, reflects architectural styles over time. Montpelier Conservation Group strives for this to continue with good design of 21st Century buildings alongside sympathetic refurbishments of existing ones.
Montpelier Conservation Group
Montpelier Conservation Group is concerned primarily with issues relating to the built environment of Montpelier and its neighbouring areas.
What do we do?
Much of our time is taken with considering planning applications for buildings and attending related meetings. But we have also worked on bringing Montpelier Park to life, on improving road layouts and street furniture, and setting up the MontpelierPages online directory.
Minutes of Meetings
Minutes of our meetings are available to download from the MCG Minutes page.
Other sites of interest
MontpelierPages is a local directory of services in Montpelier.
Know Your Place enables you to explore Montpelier through historic maps, images and linked information.
For planning matters see Bristol City Council planning and building regulations. Here you will also find a link to the Montpelier Character Appraisal which was adopted in 2009.
Other information Bristol-wide is available on the Bristol Civic Society website.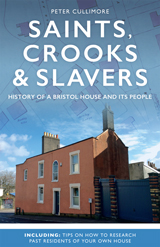 Peter and Sue Cullimore delved into some untold stories about people who have lived at 60 Fairfield Road over the centuries. This book combines the history with their step-by-step guide on how to investigate where you live.
Available direct from the author for £10 locally: phone 07730 493872 or email Peter
Trivia Quiz
Test your Montpelier knowledge here, complete with revealable answers!
Why not contribute to the next MCG meeting?
Montpelier Conservation Group usually meets once a month – during lockdown this is via the members' online portal and video link but non-members are welcome to comment via the MCG contact form.
Proposed meeting dates for 2020 are:
20 January
17 February
16 March
20 April
18 May
15 June
20 July
17 August
21 September
19 October
16 November
21 December