Montpelier Conservation Group
Westmoreland House: An Oral and Visual History
Carriageworks Action Group and Montpelier Conservation Group were awarded funding from the Heritage Lottery Fund to explore your memories of Westmorland House. The project focused on the short period of the building's life when it was occupied in the 1960s to early 1980s.
Westmoreland House: An Oral and Visual History gathered stories and memories from people who worked in the building, or who knew it when it was a working building. The stories were recorded and kept, along with a collection of images, plans, press cuttings – whatever documents we could find – to tell the story of Westmorland House when it had windows.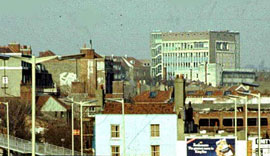 Although the funded project is now complete, if you have any information about Westmorland House, or stories to tell about it, please email stories@carriageworks.org.uk.
To see the results so far, go to the stories page on the CAG website.
Westmorland House has gained an extra 'e' over the years, hence the project name reflects that!